Vietnam temporary resident card for foreigners is a service by Phu Ngoc Viet Translation to create real benefits for foreigners who desire to reside in Vietnam and work for companies, organizations, individuals or FDI corporations. In Vietnam, a temporary residence card is legally defined as a 2-year visa, which can replace your Vietnamese entry or exit visa.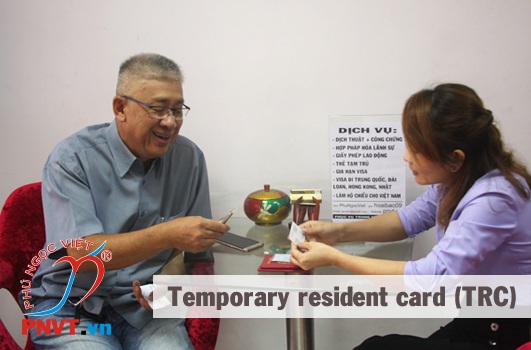 What obstructs your application for your first temporary residence card in Ho Chi Minh City?
To understand such obstacles, we should learn that foreigner's temporary residence card is granted by Ho Chi Minh City's Immigration Office and its superior Ho Chi Minh City Department of Immigration. Before reading this article, I assume that you have entered some websites for guidance on temporary residence card requirements. You must be concerned that:
Few websites provide the instructions for a foreigner to apply for a temporary residence card;
Instructions on the websites provide general ideas on the procedures;
The application formality for foreigner's temporary residence card varies at a head-aching pace.
The requirements for temporary residence card become more difficult than you presume.
Phu Ngoc Viet Translation company does not flinch from such obstacles that we consider as an opportunity to test and prove our prominent abilities and experience.
We "do our best for what we accept" to "achieve" the final target of being granted temporary residence card for every foreigner.
Why you should choose our service for your temporary residence card?
As a field veteran, we proudly affirm our profound knowledge of the foreigner's temporary residence card requirements. You should choose our temporary residence card service, because:
We are conversant with the legal regulations for visa extension
We are honest and accommodating
We are well prepared for the temporary residence card requirements. You must do nothing but give us your original passport and sign the prepared papers. You can save much of your valuable time.
Results are announced in timely manner
Price is fixed reasonably
We "only get paid for what we accomplish"
We are highly responsible and devoted: We can finish what we accept, and we never give up on the challenging cases that we take in.
We get paid when we finish your assignments. Otherwise, full refund is available.
Call us for the best advises to save your time and money and enhance your work efficiency.
Phu Ngoc Viet Translation has last-minute solutions for "urgent and fast temporary residence card" (Vietnam temporary resident card) if you do not meet the temporary residence card requirements. We wish for your joy and success!
SEE MORE
>>> How to apply for a visa for foreign experts most effectively

>>> Service of temporary resident card Vietnam for foreigners