What should we do after your temporary residence card expires? What is the procedure for the renewal of your temporary residence card? This article shall guide you to handle an expired temporary resident card. The left corner of an expired temporary residence card shall be cut (see the picture) after the card is nullified.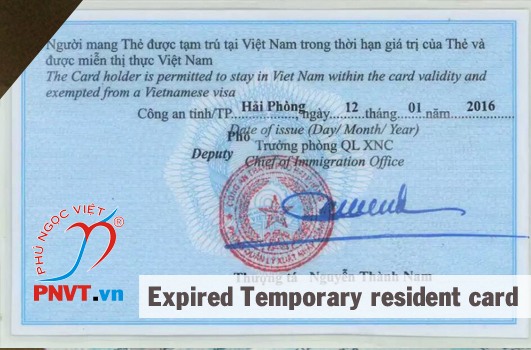 Requirements for the replacement of your temporary residence card:
1/ One written petition for the issuance of temporary residence card (Form N7A), and a declaration of the foreign petitioner's information (Form N7B) with two 3×4 photos (please see the guidance for the specifications of the said photos, the sealing, and the affixture of the seal on the adjoining edge of the photo and the form N7B).
2/ The images of the valid passport, visa and immigration form (please bring the original for comparison).
3/ A copy (with the original, for comparison) of the written evidence of the purpose of your stay in Vietnam (this is not required if you desire to replace an equivalent card for the change of your passport numbe, or your dependants (wife, children …) receive their temporary residence card).
4/ The original of the former temporary resident card.
We wish for your joy and success!